750ml Leg Bag Urine Drainage Leg Bagswith Cross Valve and Elastic Bandage
Leg bag usually tie to legs covered by trousers, patients are able to move freely with leg bags tied
How to connect leg bag for male ?
See below pictures: External Catheter + Connector + Leg bag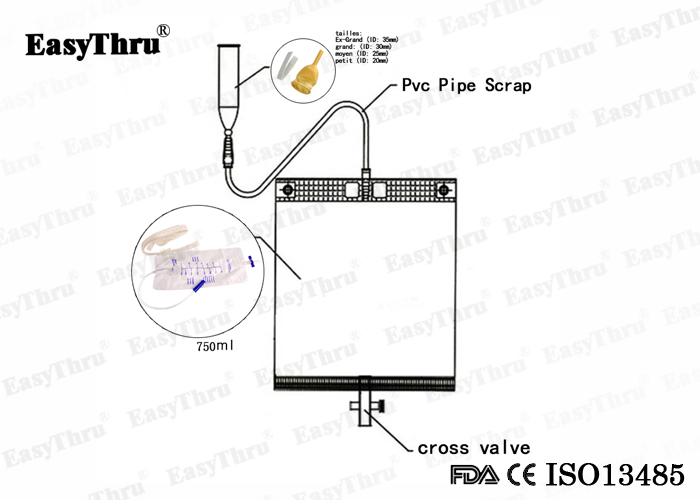 How Your Leg Bag Works ?
Urine will pass through the catheter in your bladder into the leg bag.
1: Leg bag will be attached to you all day. You can move around freely with it.
2: You can hide your leg bag under skirts, dresses, or pants. They come in all different sizes and styles.
3: At night, you will need to use a bedside bag.
Where to place your leg bag ?
1: Attach your leg bag to your thigh with Velcro or elastic straps.
2: Make sure the bag is always lower than your bladder. This keeps urine from flowing back into your bladder.
Emptying Your Leg Bag
Always empty your bag in a clean bathroom. Do NOT let the bag or tube openings touch any of the bathroom surfaces (toilet, wall, floor, and others). Empty your bag into the toilet at least two or three times a day, or when it is a third to a half full.